Travel Approval has been issued and Consulate Date is set!
Praise God from whom A-L-L blessings flow!!! We have come to the time in our adoption journey to GO AND GET OUR GIRL!! On Tuesday, August 20th our adopotion agency received the official Travel Approval document from China. On Wednesday, August 21st our consulate appointment was scheduled and on Thursday, August 22nd international flights were booked.
**Keep in mind we will be 12 hours AHEAD of Eastern Standard Time here in the States** (ie: if it's 7 p.m. on Sunday here it is 7 a.m. on Monday in China)
For my detail loving friends, here's the scoop(Lord willing):
We will leave Newark, NJ airport on Wednesday, August 28th after a non-stop 13 hr. and 55 min. flight we will arrive in Beijing Thursday afternoon, Aug. 29.
Saturday evening we will leave Beijing and go to Xi'an in Shaanxi Province and then..................
SUNDAY, September 1st, we will meet Lucy Kim for the very first time and she will stay with us!!! We will stay in Xi'an until Friday, Sept. 6th (during this time they will be working on Lucy's paperwork and passport)
Xi'an (home of the Terracotta warriors)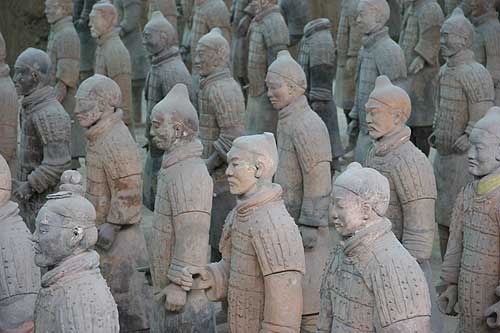 and then head to the United States Consulate in Guangzhou, China on the 6th. Saturday the 7th, Lucy will have her physical and tb test. Monday they will have the results of tb test. Tuesday, Sept. 10th at 10:00 a.m. our consulate appointment is scheduled. Wednesday the 11th we will receive Lucy's visa. Thursday morning, September 12th we will leave Hong Kong on a non-stop flight back to Newark, NJ. where Lucy will touch down in the United States for the first time and be an American citizen with a family!!!
T

hank you friends for helping there to be one less orphan and being a "piece of the puzzle" in bringing Lucy home! We are so grateful to each one of you!